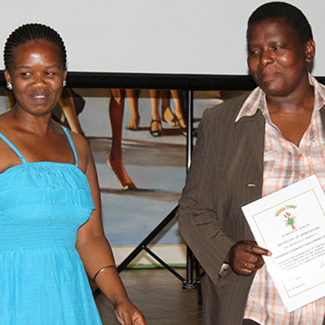 CELEBRATING WOMEN IN DEVELOPMENT
LegalWise recognises that women play a central role in bringing about economic and social transformation.
Women's Day, commemorated on 9 August each year, recognises and celebrates the impact women have in shaping our society.
On this day, sixty-three years ago, 20 000 women from all over South Africa mobilised in a peaceful march on the Union Buildings to protest against the injustice and discrimination of the pass laws. This event became a symbol of the strength and resilience of women to effect change and positively influence our communities.
LegalWise recognises that women play a central role in bringing about economic and social transformation and as such, we are proud to partner with various community-based organisations led by strong women who are determined to drive change.
Meet Bongiwe Ndakisa or Bongi as she is fondly known. We met Bongi through Ikhala Trust, a long-term community partner of LegalWise. She was born in Tsolo in the Eastern Cape and attended the Mthatha Technical College to further her education. Following her graduation, Bongi moved to Gauteng where she worked for a local non-profit organisation. Bongi dreamed of returning to her village to share her passion for technology and bridge the digital divide between rural and urban communities.
In 2010, Bongi returned home and established Kwenzekile Community Development Centre (KCDC) on her family's small holding with the aim of providing young people with easy access to computers. Using her savings and with the support of friends and family, she acquired second hand computers and equipment to get the ball rolling.
Bongi recognised the limitations of being located in one village and approached Ikhala Trust for support. Using on-grant funding provided by LegalWise, she managed to upgrade the computer equipment and today KCDC has a number of laptops which allow them to travel to rural villages, offering computer training in otherwise inaccessible areas.
Through Bongi's determination, what started as a dream has evolved into a thriving business which offers affordable, accredited computer literacy training and subsequent access to the economy for communities throughout the Eastern Cape.
We salute Bongi's perseverance and commitment. As she says, "Nothing is impossible if you put your shoulder to the wheel and believe in yourself."